5 years on from completing the UK's first ever CQC-rated "Outstanding" specialist eating disorder clinic, the Orri team invited us back to complete the design and fit out of their second location after securing a new building in Wimpole Street, London.
As with their debut location in Hallam Street, we created a space that allows the team to work collaboratively with their clients; providing expert treatment with kindness and compassion with the goal of once again achieving the highest level of CQC Outstanding status.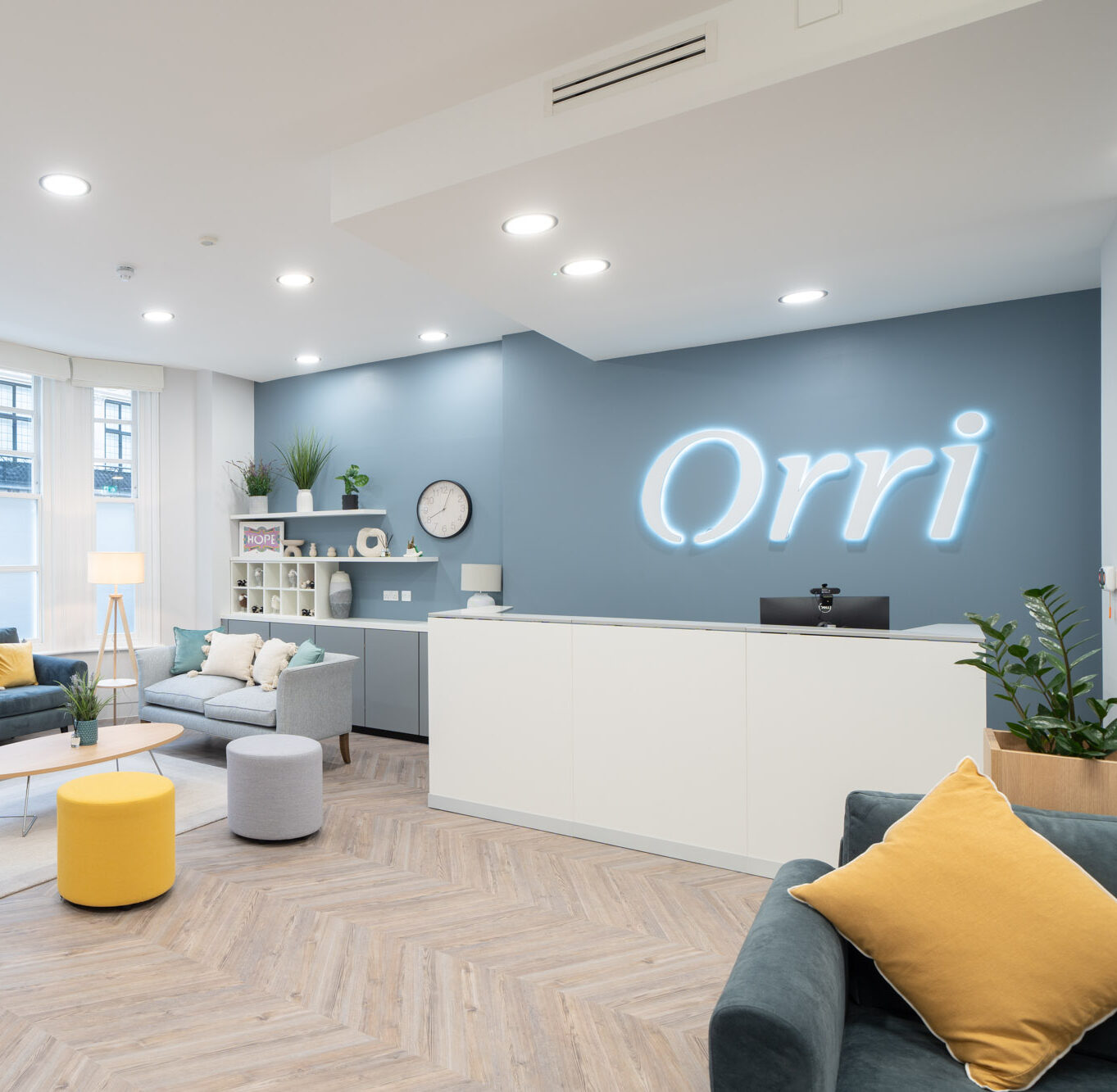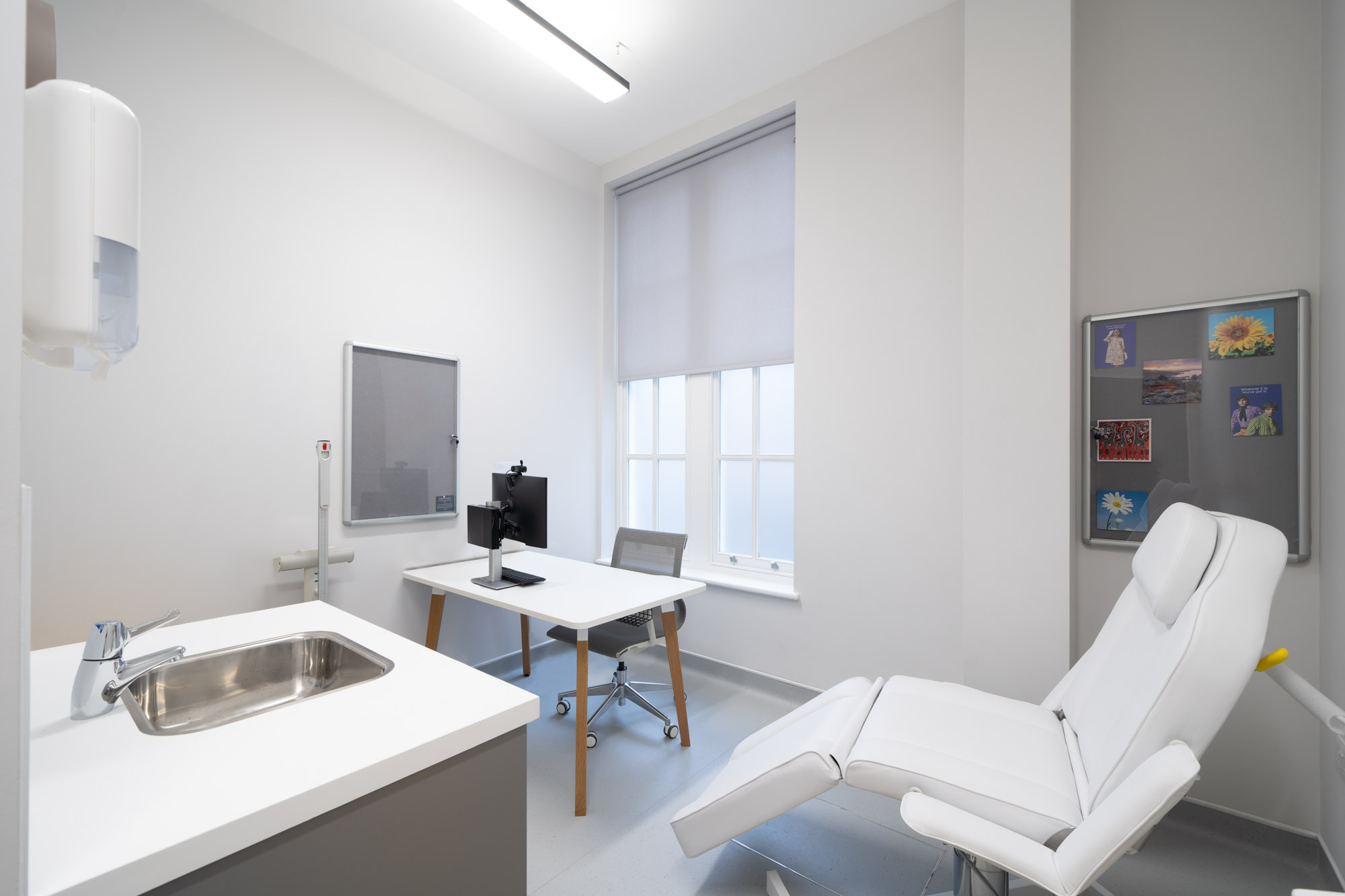 Taking every detail into account
Working alongside a CQC specialist, our design and construction teams ensured every detail of Orri's new space was considered to mitigate the risk of client harm and cater to their wellbeing, an essential part of meeting CQC requirements.
Through the careful specification of specialist products, windows, doors, ceilings and W/C's were modified with anti-ligature devices, such as sloped handles and concealed closures, to create a safe environment for Orri's clients. Wellbeing rooms in the form of sluice facilities and clinic rooms are also placed throughout the building.
Designing a calming environment
It was paramount that Orri's second home continued to provide a safe, clean and calming environment for clients when recovering from their eating disorders. Our design team meticulously specified elements for a space which is very much a 'home-away-from-home'.
Touches of pastels on soft seating and feature walls bring a warmth to a space benefitting from plenty of natural light. The sense of home and comfort is immediate as you step into the reception and waiting area, with plush sofas and coffee tables signalling a space which is more therapeutic, than clinical.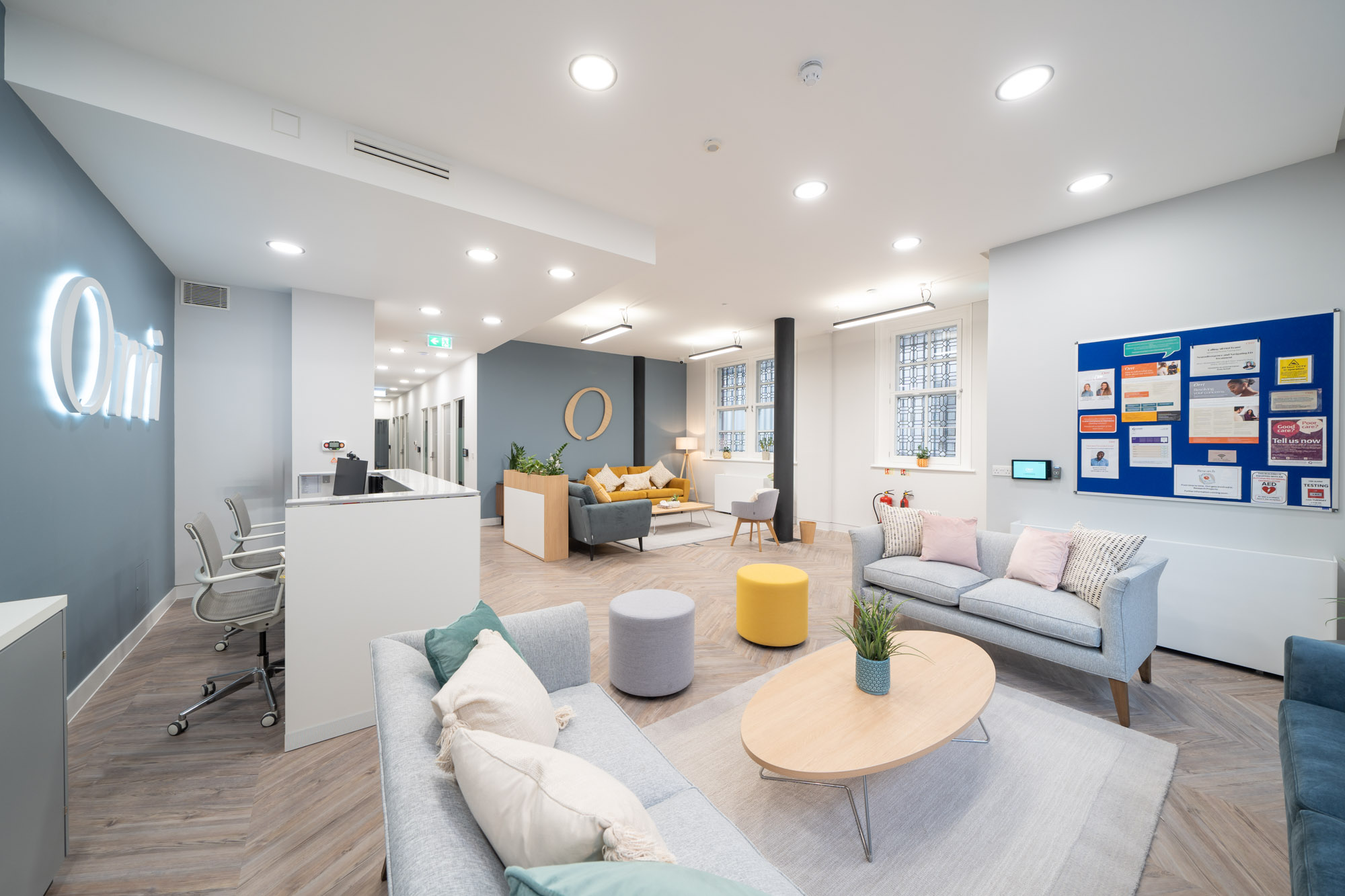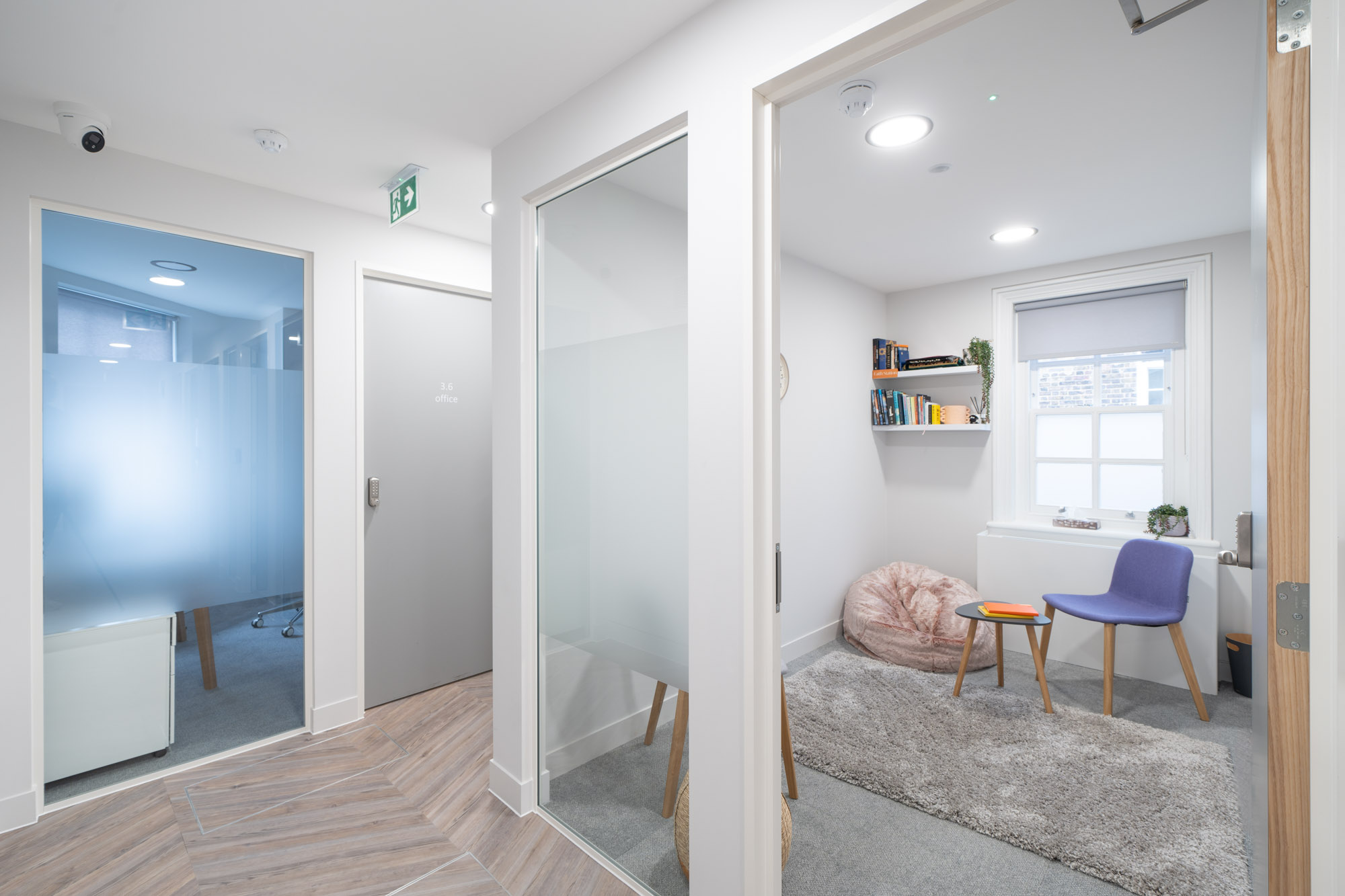 Bespoke needs. bespoke solutions.
Cosy group rooms, sitting rooms and therapy rooms have been constructed throughout the space by our in-house craftesmen, using solid acoustic and glazed partitions to seamlessly blend with the base build structure. Frosted manifestation is used to add additional privacy whilst allowing natural light to penetrate throughout to keep spaces well lit.
Bespoke joinery was designed for several rooms in the building to maximise space utilisation, including cupboards, store walls and benches. Staff-only spaces can also be found throughout in the form of 1-person offices, open plan desking and tea points, with the 4th floor even including a small balcony, appropriately named, "London View".
Mechanical and Electrical Transformation
The basement floor plays host to an expansive dining area, complete with a commercial grade kitchen to allow the Orri team to provide a key part of their treatment services, and areas are split into different zones to allow for both group and individual dining depending on a client's specific needs.
To service the new space a full mechanical and electrical overhaul was required. Our in-house electrical team expertly completed the reconfiguration of all small power, lighting, fire alarms, network cabling, access control and A/V installation throughout to bring the new scheme to life.
We also oversaw the mechanical installation of all air-conditioning and heating and cooling elements, including services to the new commercial grade kitchen.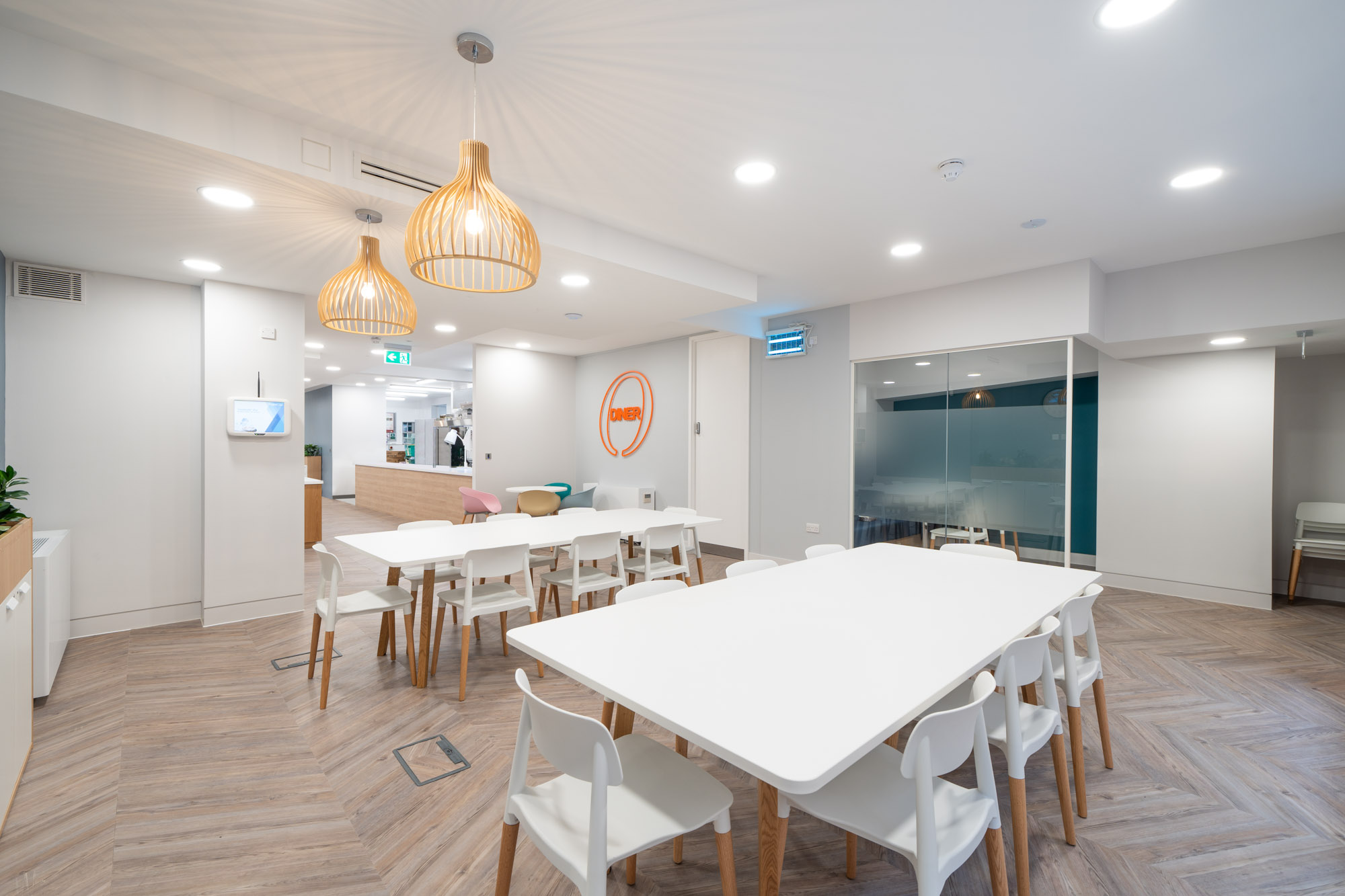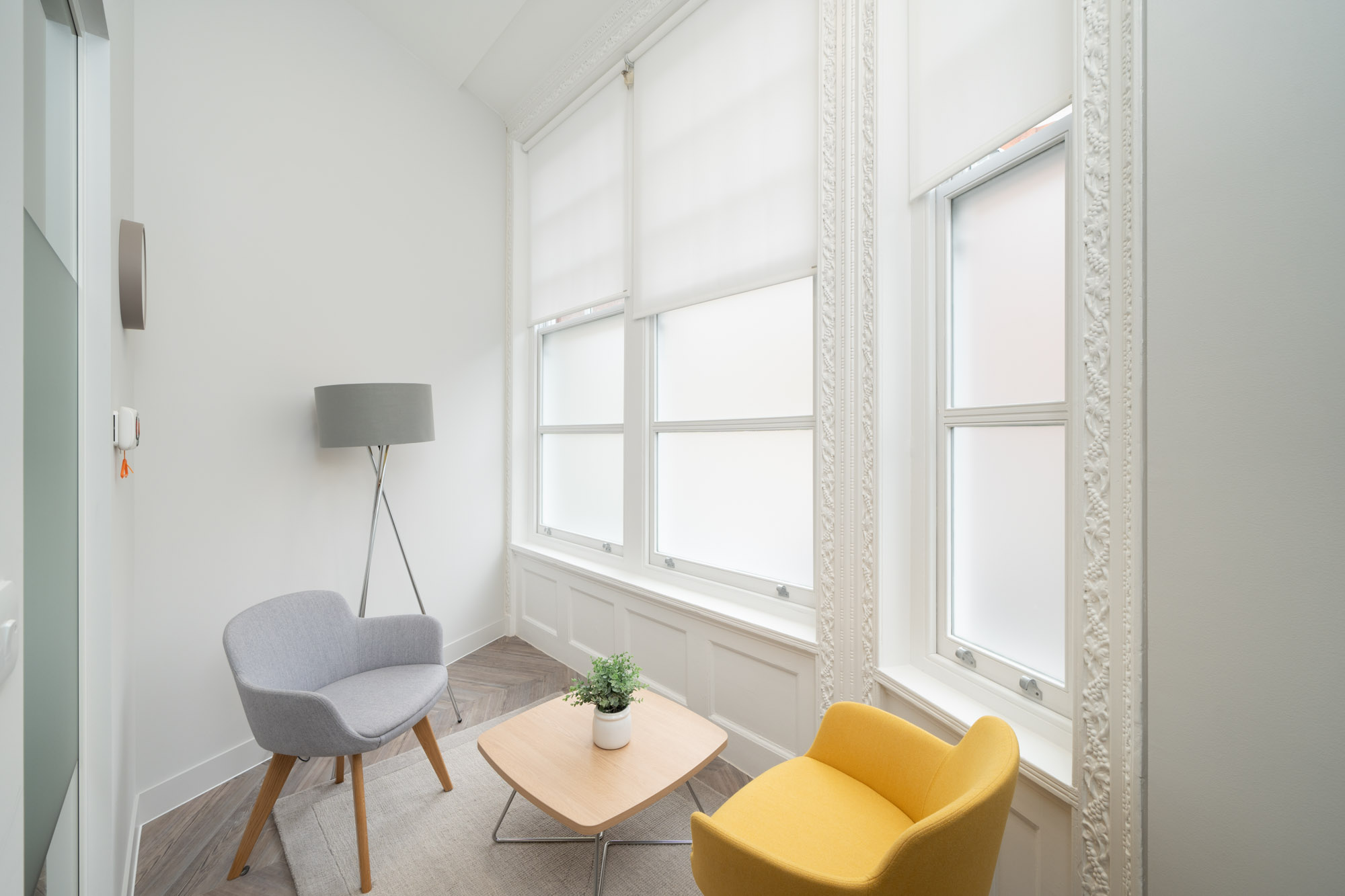 By designing an intelligent new space, Orri now have an outstanding second premises in which it's growing team can continue their life-changing work. We're delighted to be a part of their story.
"It was a pleasure to work side by side with the Constructive Space team once more. Five years on from the refit of our Hallam Street clinic, we knew our Wimpole Street project was in excellent, trusted hands. Constructive Space intuitively understood our goal: to create a space that could cater to Orri's growth and expansion whilst maintaining the unique, therapeutic atmosphere that supports eating disorder recovery, aligned with CQC-rated 'Outstanding' requirements. We are delighted with our new home. It's been a joy to receive such positive feedback from our clients, their families, and of course our growing team."
– Kerrie Jones, CEO and Founder of Orri