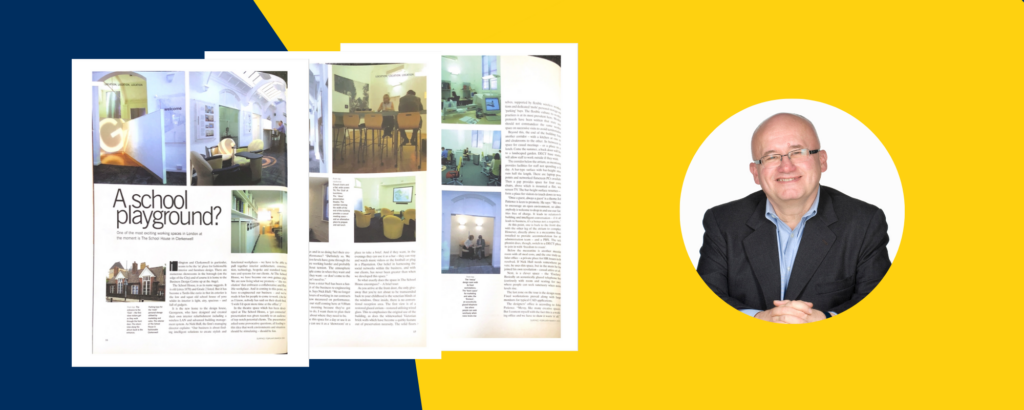 An office ahead of its time? Back in 2001, Constructive Space Project Director, Nick Hull took us on a tour of his then reimagined workplace that boasted some of the most modern ideas of working many of us are still just about getting used to 20 years later.
With the idea that the workplace should be collaborative and flexible, Nick and his team became the guinea pigs in their own experiment, creating a space which moves away from a place to just do work, to a place which is not only stimulating, but fun.
The School House in Clerkenwell was the location for this experiment and was deemed one of the most exciting working spaces in London at the time for its Tardis-like interior. Light, airy, spacious – and full of gadgets.
So, what were some of these modern ideas of working that Nick implemented 20 years ago?
"The change from a strict 9to5 has been a fundamental aspect of the business re-engineering that has gone on. We no longer have standard hours of working in our contracts – people are now measured on performance. We don't want our staff coming here at 9.00am on a Monday morning because they've got nothing better to do. I want them to plan their time and think about where they need to be."
"They can use this space for a day or use it as a drop in. They can use it as a 'showroom' or a place to take a brief. And if they want, in the evenings they can use it as a bar – they can stay and watch the football or plug in a PlayStation. Our belief in harnessing the social networks within the business, and with our clients, has never been greater than when we developed this space."
Back at the turn of the century, Nick gave a "get connected" presentation to an audience of potential clients that asked some provocative questions, all of which are now as relevant as ever with the COVID-19 pandemic accelerating changes to the working norm we've become accustomed to.
These were some of the questions:
How would you design your office if workers had to pay an entrance fee?
Is your office a place worth leaving home for?
Do you attract and retain talent?
In the future, will knowledge workers only come to work because it is a stimulating place to be?
Does your technology create freedom to work from anywhere?
How does your organisation facilitate the transfer of knowledge and learning through-out your office
Are business results influenced by the motivation of knowledge workers, and are those knowledge workers motivated by their place of work?
There's a few standout questions here which company's across the nation, and globally are tussling with now 20 years later.
From the start of the pandemic, just about every office-based worker has experienced working from home and many are now questioning if they'd want to return to the office at all.
According to CBRE research, 28% of employees now desire a fully remote arrangement, showing almost a third of workers don't see their office as valuable enough to leave home for.
A further 67% saying they'd prefer a more balanced arrangement between working from home and working in the office, leaving only 6% saying they'd like to return to the office full time.
Now with employees having experienced a different way of working, organisations have found themselves in a new position where they'll have to navigate how they're best going to attract and retain talent. Giving workers the freedom to choose will play a big part in this.
Streaming service Spotify is introducing a flexible-working scheme called "My Work Mode" that will give Spotify staff a choice over whether they work full-time at home, from the office, or a hybrid combination of the two, following the likes of similar moves from Microsoft, Twitter and Facebook.
Although Zoom and Teams have done a wonderful job over the course of the pandemic, businesses will have to consider whether it's a satisfactory long-term solution, especially for those of which have previously relied on more face-to-face collaboration.
We expect employee performance to be the key indicator on how businesses move forward. Although working from home will become more commonplace, it will only continue to be should performance maintain a good standard.
The office will certainly not die, but it will adapt into something more similar to what Nick introduced in 2001. A place to collaborate with others when needed and a place where employees want to be, rather than where they have to be.
We've been hard at work transforming our client's offices throughout the pandemic. Whether you're moving to a new space or looking to adapt what you already have, get in touch with our friendly team today. We'll take your brief and design your space for free.