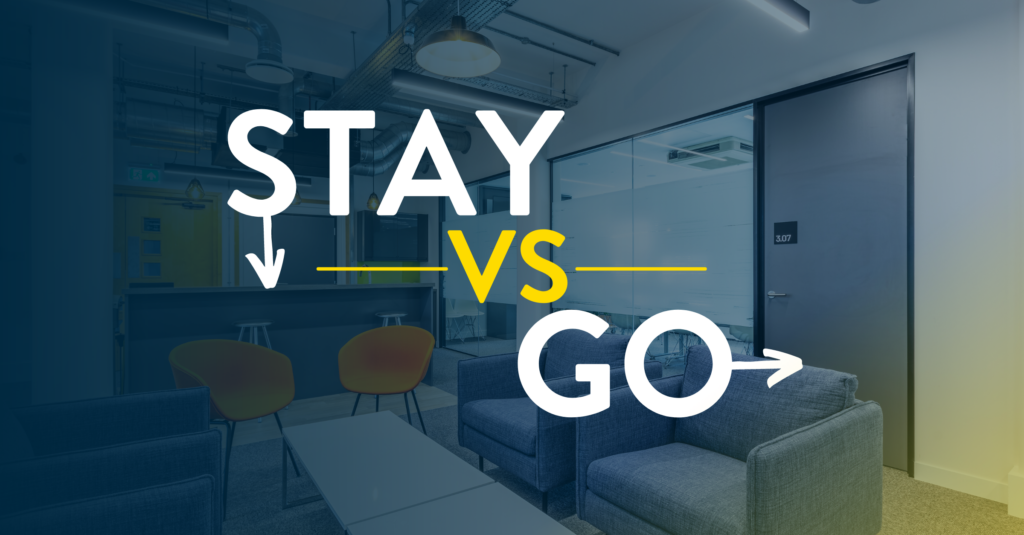 Whether your business is expanding, consolidating or experiencing a stable period of growth, an approaching lease event anytime in the next 6-12 months will mean you'll inevitably be facing the question, "shall we stay or shall we go?".
Formulating a 'Stay vs Go' office strategy is usually a complex and multi-faceted process. Consideration of all the variables can be a challenge, especially when some of those variables appear contradictory in nature.
Below are some key steps and considerations to keep in mind, when starting your review plan:
(1) Office review
Conduct a comprehensive assessment of the current accommodation. This should include the physical space, lease terms, location, and amenities, as well as meaningful and solicited feedback from employees and other stakeholders.
(2) Determine your organisation's short-term goals and objectives
Are you looking to immediately expand or downsize your operations? Do you want to maintain employee productivity or simply reduce costs?
(3) Determine your organisation's long-term goals and objectives
Are you looking to expand or downsize your operations? Do you want to improve employee productivity or manage, as much as possible predicable overheads in the coming years?
(NOTE) Comparing 2 and 3 will help identify priorities and objectives. Really, if done thoroughly it'll probably define the very framework of your strategy, without too much speculation or opinion colouring any eventual roll-out.
(4) Consider your workforce and their office needs
For most businesses the workforce 'is' their business, even when that business is IT related. How many employees do you have, and how many of them will require physical office space? How often? 3 days a week, 5 days a week? Are there any specific amenities or features important to your staff, such as on-site parking, access to public transportation, bike storage or shower facilities?
(5) Evaluate the current and future office real estate market
What are the current and projected costs of office space in your area? Are there any emerging trends or opportunities that could impact your decision? Understanding the trajectory of the market can assist your negotiating position with the current landlord and when negotiating new premises.
(6) Develop a cost-benefit analysis of your stay vs go options
This analysis should take into account, not only the financial costs of maintaining your current office space vs. moving to a new location, but also the potential impact on employee productivity, morale, and retention.
(7) Optimising your office design
Following the pandemic, occupiers quickly focused on creating workspaces that enable hybrid working in all of its incarnations. Priority was given to enhancing collaboration spaces and incorporating greater wellness features such as green walls. Use of natural materials and access or exposure to natural light are also hugely important factors. Well-designed office space has always directly impacted on productivity but these days it's a factor in staff attendance and retention.
(8) Create a detailed implementation plan
Once you've established the starting criteria and outline of your stay vs go strategy, develop a plan for executing the transition. This plan should include timelines, budget estimates, and key milestones. Always engage staff in each process, especially those directly affected by the proposals and changes being considered.
Your decision to 'Stay or Go' will depend on a range of factors specific to your organisation. By conducting a thorough review, understanding your goals and workforce needs, evaluating the real estate market, and creating a detailed implementation plan, you can make an informed decision that is best for your organisation.
Need help with your Stay vs Go decision?
Get in touch with our workplace experts for a free consultation at info@constructivespace.com