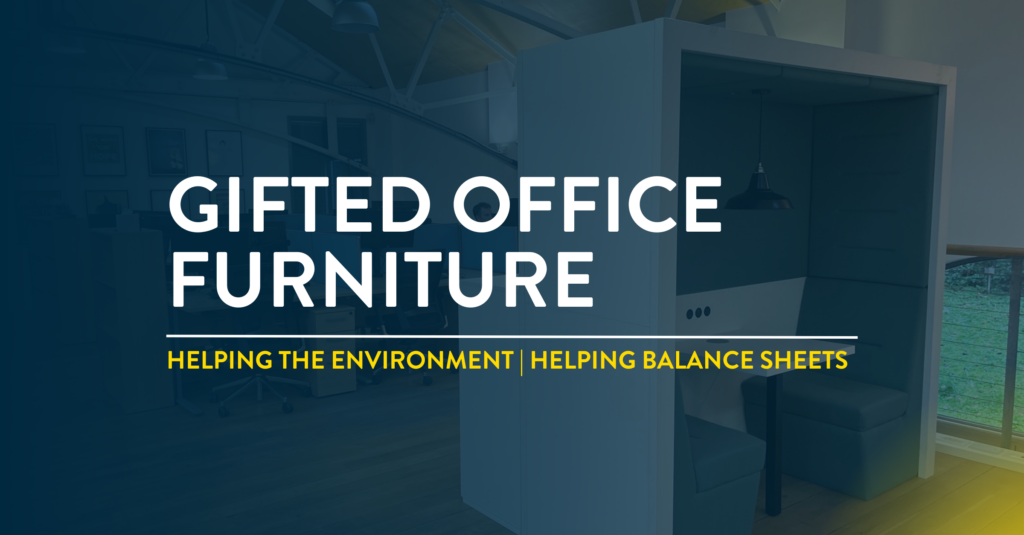 When a company relocates to a new space, or even refurbishes their existing premises, it's not always feasible to reuse and reconfigure the office furniture it already has.
In fact, according to the Waste & Resources Action Programme, 1.2 million office desks and 1.8 million office chairs end up in UK landfill each year as a result.
With such a considerable amount of office furniture going to waste, a lot of which is in excellent condition, we make a conscious effort to reduce this number wherever possible.
By acting as facilitator, we've helped dozens of companies acquire free of charge and like-new furniture for their workspaces by connecting them with our network of clients. Not only helping reduce the impact on the environment but benefitting balance sheets too.
It really is and win-win situation.
April International Donates Office Furniture to Imperial Society of Teachers of Dancing
Following our fit out, health insurance agency April International kindly gifted a full package of office furniture including desks, task chairs, armchairs, storage cabinets, benches, meeting tables and coffee tables to educational charity, Imperial Society of Teachers of Dancing.

Founders Forum Donates Office Furniture to Liberty
In another case and through connecting two of our clients, Founders Forum and Liberty, we were able to facilitate the move of circa £30,000's worth of pre-loved furniture to a new home.
Founders Forum generously donated this significant package of office furniture to independent membership organisation, Liberty, putting the finishing touches on our office design and build project. Most notably included in this package were 2no. 2-person acoustic meeting booths, 2no. 2-seat high back sofa's and 44no. high quality office chairs.

Liberty's Property Project Manager, Tarenn Galesloot had this to say:
"You and Founders Forum will make an incredible difference to the lives of everyone who works at Liberty. Another genuine heartfelt thank you to you all! We will of course take some time to take pictures of the before and after to show you the difference in full technicolour and share with the rest of your organisation."
All in all, Founders Forum's generous donation saved Liberty tens of thousands of pounds worth of new furniture costs whilst also benefiting themselves using the value of their donation (after depreciation is taken into account) as a tax write-off.
It's not just furniture though. There have also been cases of tenants occupying a space which has only recently had new flooring installed, whether it might have been for marketing the space or just that the previous tenant kept it in pristine condition. In these circumstances it's been possible to fully strip out this (essentially new) flooring for use elsewhere.
We're proud to be able to facilitate these moves, especially for charities and not-for-profit organisations, providing the opportunity for resources to be allocated elsewhere.
Recognising our generous clients
Our thanks to the following companies who have recently donated office furniture: